FRIDAY FREEBIE
Whew! We made it to Friday. This week the brand new Gobble til You Wobble narrowly won the poll in the Facebook Group over the newly updated Pumpkin Kitty applique.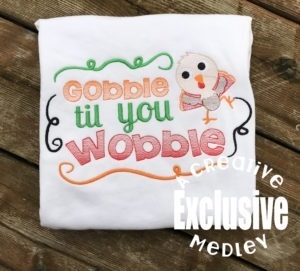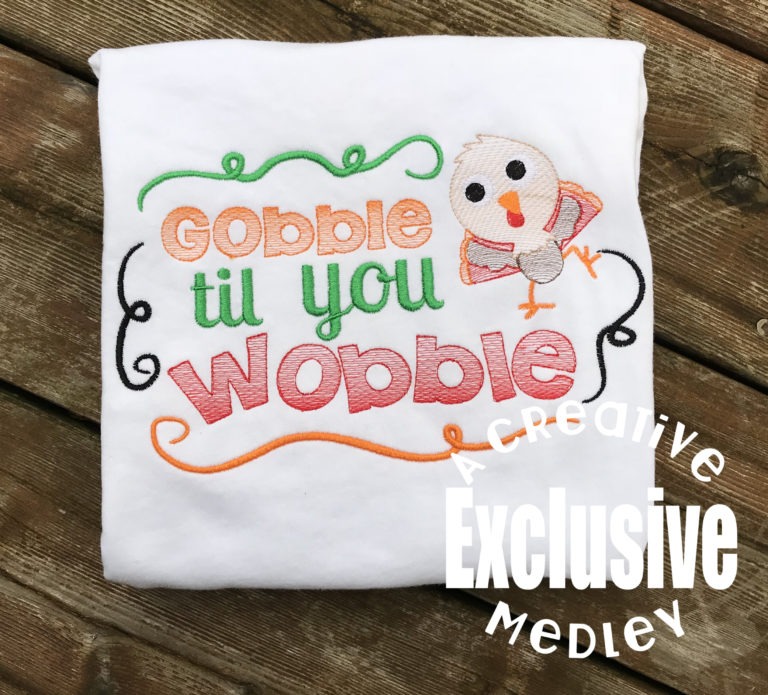 Add the Gobble til you Wobble design to your cart along with any other (not free) design and a coupon will appear at checkout. Click the coupon to apply it. Both the Gobble design and the purchased design must be in your cart for the coupon to appear. If the design is not in your cart at checkout, it will not appear in your account. The freebie expires at midnight US Central time on Saturday, October 14, 2017 – but grab it now before you forget!
Updated Design
The Pumpkin Kitty Applique originally came in 3 sizes, but I have updated it to include 8 sizes:
4×4
5×7
6×10
7×11
8×12
7.75 x 7.75 (fits Durkee hoops)
8.8 x8.8 (fits most "10×10" hoops)
9×14
There were a few minor changes within the design to bring it up to my current standards, just to make it stitch a tiny bit more smoothly. There was also a small change to how the eyes stitch.
If you previously purchased the design, you can either reply to the receipt you received when you bought it, reply to your Paypal receipt or send a message through the Contact Us form on the website with the name and email you purchased it under so that I can look up your receipt. I will respond with the updated file. You do not need to re-purchase to get the update.