It is Friday again and that means it is time for another Freebie! It has become tradition, each Friday I post a different design free with any purchase (with a few exceptions during sales, etc). This allows me to give you a great deal on some of my best designs or new releases. Make sure you grab it while you can – Friday Freebies expire Saturday night – so the 4×4 zipper bag will go back to regular price at Midnight on June 31, 2017.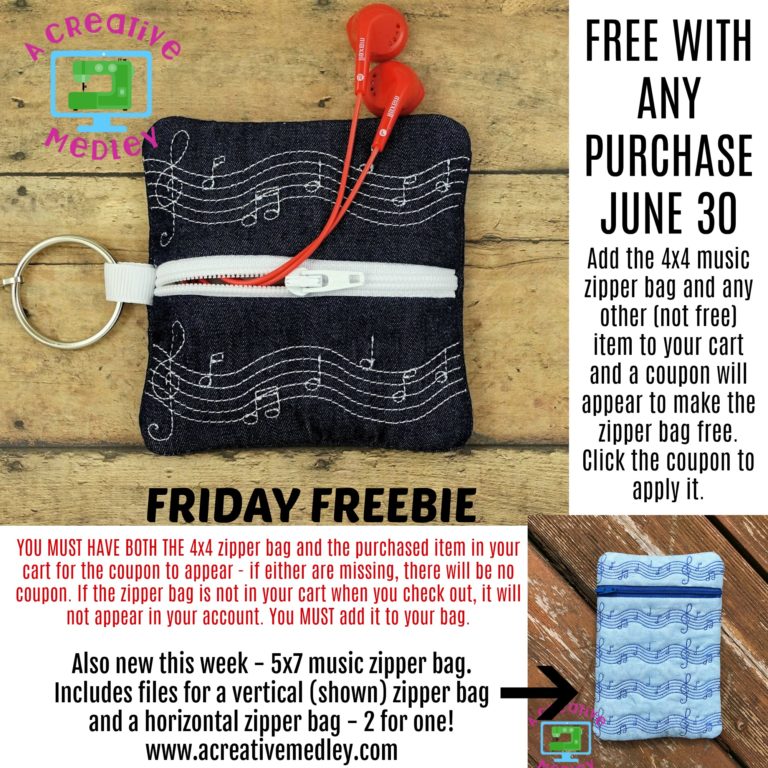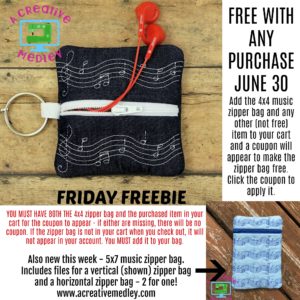 This week, the brand new 4×4 zipper bag with music motif is our Freebie. Add the zipper bag, along with any other (not free) design and a coupon will appear in your cart. Click that coupon to apply it and it will remove the cost of the zipper bag. You must have both in your cart for the coupon to appear.
I also listed the 5×7 zipper bag with music motif this week. It includes designs to make both a horizontal wristlet style zipper bag AND a vertical cross body style zipper bag – 2 designs for the price of one. Really, if you buy the 5×7, and get the 4×4 freebie, you will get three for the price of one!
I have over 20 motifs between the stockings and bibs – which ones do you want to see next as zipper bags? Drop a note in the comments and let me know!